That's it. I'm done. No more pretending to be something I'm not.
I've denied it, I've fought it, I've tried to change it.
Nothing. No change.
I'm just going to have to live with it. Learn to be awesome in spite of myself. Maybe confession will be good for the soul.
Okay, here goes…as much as I wish it was…
Morning is just not my thing. 
I mean it's quite possible that in God's book of remembrances, there is a reference there to me being irritated with him for creating birds to be "morning people", and then giving them a home in the trees right outside my bedroom window. (I've repented of my irritable attitude and my disrespect, but not for my lack of love for morning.) See? I'm too far gone. There's no help for me.
Or, maybe there is.
I can hear Marry Poppins now, singing "Just a spoonful of sugar helps the medicine go down." And I realize that there is one thing that gives me the courage and strength to get out from under those warm covers and start another day.
It's food.
Really good food.
Food that is ready to eat.
Healthy is an added bonus, but not always required.
When I know there is a pan of these defrosting and rising on my counter top overnight, you can bet I'm a happy girl when I wake up.
Or this. It's fruit, oatmeal and no refined sugars. How can that be a bad breakfast?
My kids and I love it when I have some homemade waffle batter in the fridge. If we have fresh strawberries to slice and put on top… even better!
But I think our favorite thing to wake up to is a homemade, whole wheat muffin.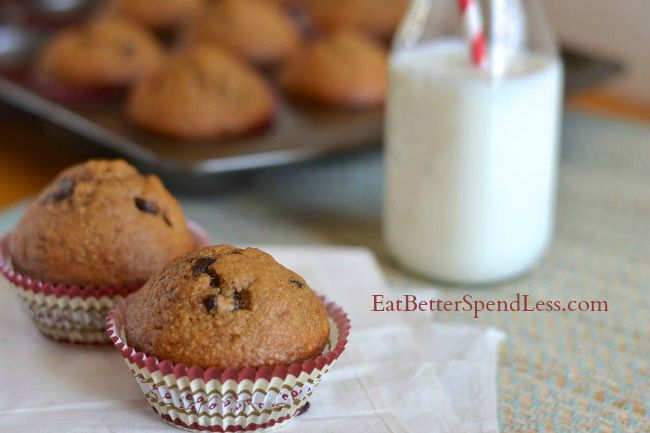 Muffins are a great go-to breakfast for people like me who need a little extra motivation. They freeze well, so you don't have to make them in the morning, yay!
I happily get out of bed for my Strawberry-Lemon Whole Wheat Muffins. I must have stumbled on a good combination because this is the number one post on my website! I have to give credit to my Grammy, the recipe is adapted from her Blueberry muffins.
My son's all-time favorite muffin is my Whole Wheat Banana Chocolate Chip Muffin–Mmmm. He's a super picky eater but I can always count on him to eat one or even two of these for breakfast or a snack. I love having a healthy treat for him that we can bake up together.
Morning motivation isn't the only way a whole wheat muffin is a blessing to this night owl.
Do you know what non-morning people do several hours after our early bird friends have gone to bed?
We eat.
And a healthy muffin is a perfect snack. Just enough to help you settle down for the evening and have a good night's sleep; what's left of the night anyway.
Are you a morning person? If you are, congratulations, you were created to be in sync with the world. If not, here's a delicious and healthy muffin recipe for you to try.
Maybe you'll find that having these muffins in the house will bring some motivation to your morning.
Banana Chocolate Chip Muffins (Worth Getting Up For)
Ingredients
Ingredients:
½ cup oil (I use either melted butter or Coconut oil)
1 cup sugar (or sucanat for a healthier muffin)
2 eggs
1 ½ cups whole wheat flour (home ground makes a lighter muffin.)
½ cup white flour
1 tsp soda
1 tsp salt
1 cup mashed banana (about two bananas)
1 TBS vinegar plus enough milk to make a total of 1 cup
1 cup semi sweet chocolate chips
½ cup chopped walnuts (optional)
Instructions
Cream together the oil, sugar, and eggs. Beat until fluffy.
Add the flour, soda, and salt.
Alternate above with the banana and milk/vinegar mixture.
Add in the chocolate chips and stir to combine.
Mix well after each addition.
Spray muffin pan with cooking spray.
Using a large scoop, fill each muffin cavity ⅔ full with batter.
Bake on 350° for 20-25 minutes.
To freeze, allow to completely cool, then place in a labelled freezer bag and freeze.
What's your favorite food to wake up to?
More Ways To Eat Better and Spend Less: