Sometimes an ordinary meal just needs a simple side dish to make it a meal to remember.
Enter: Apple-Cranberry coleslaw.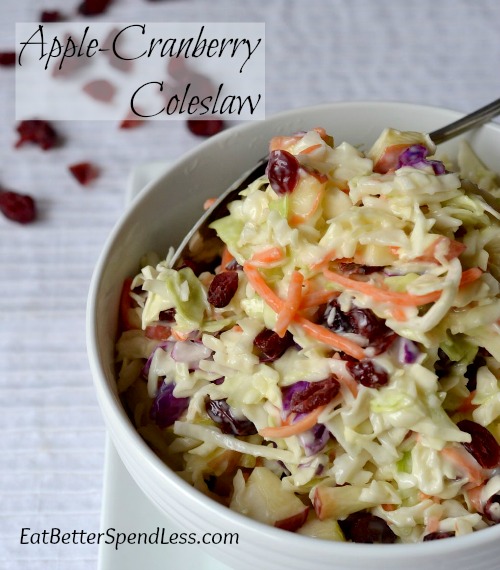 Crunchy
Creamy
Sweet
Tart
Healthy (???)
Cheap
Bee-you-ti-ful!
Did I mention it's easy to make? You can even make it early in the morning, while you still have some energy. (When I say early I mean like sometime before lunch. Let's not get too crazy here!)
I start with a bag of coleslaw mix. I mean really; some things are worth doing yourself, like grinding your own wheat. (I'm not makin' this up, it really is worth it.) But shredding two different kinds of cabbage and carrots? Nope. Not worth it for me. Buy the bag. Make the coleslaw. Thank me when your family loves it.
From there you basically chop your apples and throw in some dried cranberries.
Don't ask me why they are on my cutting board. Picture quality I guess, I did not chop them.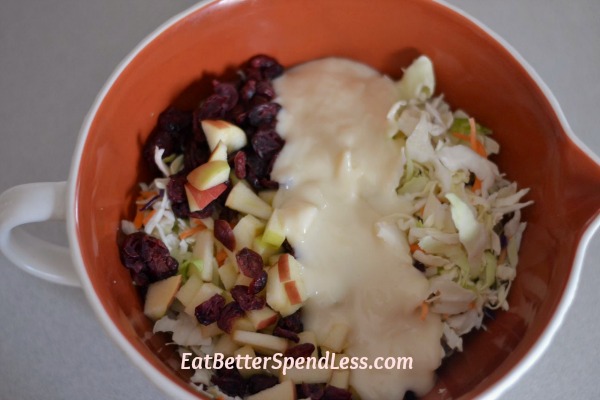 Mix your dressing, pour over the slaw mix with the apples and cranberries, and mix.
Chill til dinner! That means you get to go read a magazine with your feet up.
Oh wait. It's the coleslaw that needs to chill. Sorry to get your hopes up.
This is a great recipe to bring to potlucks and such. It makes quite a bit, in fact, I only make half of the recipe at a time for our family of four.
Five minutes and you're the rock star at the next gathering!

Apple-Cranberry Coleslaw
Sweet & Tart, Creamy and Crunchy! Simple to make and beautiful to look at.
Ingredients
1 bag coleslaw mix
1 cup mayonnaise or Miracle whip
¼ cup sugar
3 TBSP vinegar
1 cup chopped apples
½ cup dried cranberries
Instructions
MIx all ingredients in a large bowl. Chill for at least one hour and up to one day before serving.
This makes a large batch. If serving less then 4, you may want to make only half.
Do you ever make coleslaw at home? 
Linking up with:
More Ways To Eat Better and Spend Less: