Mashed potatoes. One of America's favorite comfort foods.
The problem is, if you're in the mood for comfort food, you're probably not in the mood to peel a bunch of potatoes and do all that other tedious stuff it takes to make an amazing batch of mashed potatoes.
This could really be a problem. Such a deceiving little dish. Looks so simple and yet, it's really not.
Unless…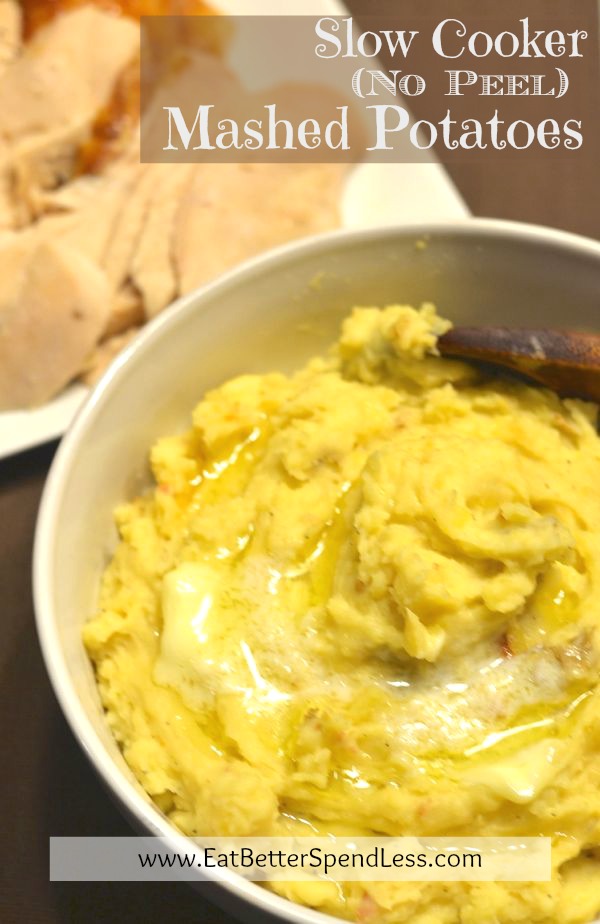 You are fortunate enough to sense the need for comfort (or just the need for mashed potatoes) about four hours before you need them, and you have a slow cooker. (Also known as a Crock Pot, but that's a trademarked name so I try to remember not to use it all Willy Nilly like that.)
If so, you're in business. If you can cut a potato and drop it into a dish, you're well on your way to creamy, comfy, deliciousness. (Have hubby stop by the grocery store and pick up a rotisserie chicken and viola! Dinner!)
Slow Cooker (no peel) Mashed Potatoes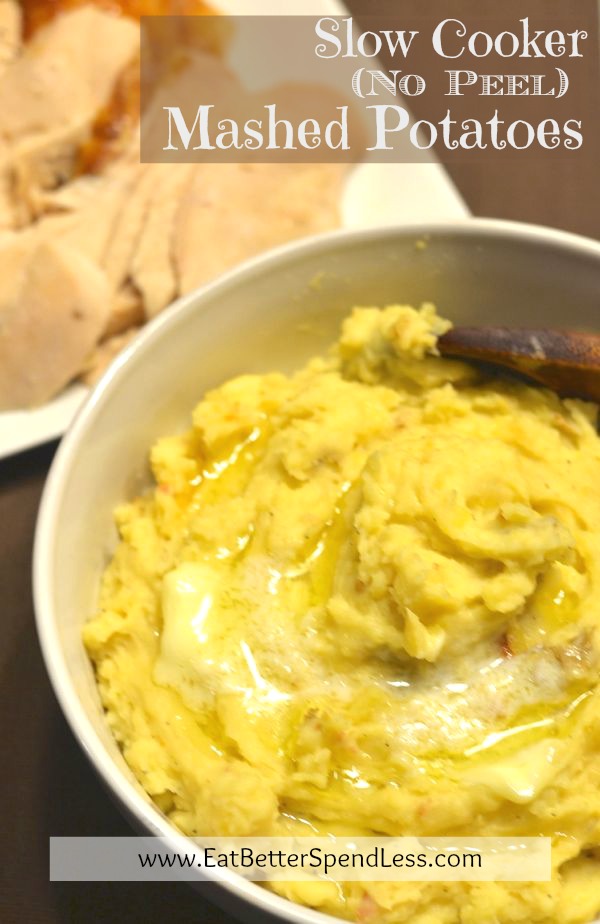 Ingredients
6-8 Yukon gold potatoes
½ cup milk
½ cup vegetable or chicken stock
optional-2 whole cloves garlic
optional-1-2 strips bacon, cut into 2 inch pieces
½ stick butter
¼ cup sour cream
salt and pepper
Instructions
Wash potatoes and cut off any blemishes on the skins.
Cut into chunks, about ½ an inch.
Toss into slow cooker.
Top with milk and broth.
Choose if you want to add garlic or bacon (or neither)
Sprinkle with a large pinch of salt
Cover and cook on high for 4 hours
When potatoes are completely tender, add butter, sour cream , salt and pepper.
For more delicious Crock Pot recipes, follow my Crock Pot Recipes board:
Follow Beth Cranford/Eat Better Spend Less's board Crock Pot Recipes on Pinterest.
More Ways To Eat Better and Spend Less: