It's another new year, and you're determined that this is the year you're going to reduce your grocery budget.
How about some help?
I don't want to take up lots of your time talking about food, and how expensive it is, and the many tips and tricks that can help you reduce the amount you're spending.
Instead, I just want to give you two free E-books.
If you've been curious about learning to use coupons effectively, but afraid it will become a full-time job, "It's Me Or The Coupons" is for you. I will walk you through the basics of using coupons and show you how to establish an easy system.
Need more ways to reduce your grocery budget?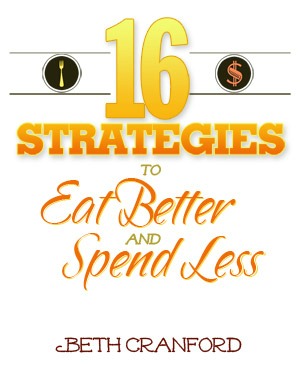 "16 Strategies to Eat Better and Spend Less" starts with making a commitment to eat out one less time per week than you do now. (Baby steps is the key.) From there we move into other money saving strategies that anyone can do.  No need to live near a farm that allows gleaning, just ordinary tips you may not have thought of yet.
They're both yours when you when you sign up for my mailing list any time in January.
(And please, feel free to hit those share buttons below so your friends can get their copies too!)
More Ways To Eat Better and Spend Less: