I'm so excited that you chose to visit this post! I have a special gift for you.
Actually, it's two gifts.
The first one is called "Sunday is Served; Sunday Lunch Simplified with Once a Quarter Cooking."
If you ever get frustrated that you somehow forgot to plan lunch for Sunday afternoon, or that you just can't get lunch fast enough while your hungry family waits impatiently, then this book is just what you need.
There is a menu for each season, with fall and spring being the same. Prior to each season you'll spend one afternoon preparing foods for the freezer. From there, just check your seasonal meal plan each Saturday night to see what needs to be thawed or dropped into the Crock Pot. Each season has a shopping list for freezer cooking day as well as serving day, and directions for each of those days. Recipes for each item area also provided.
There's nothing like the peace of mind you get from knowing that lunch is not only planned but will be ready in no time! Welcome to a more peaceful Sunday afternoon.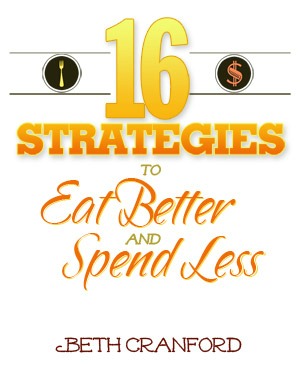 And then there's the book I always give to my new subscribers; "16 Strategies to Eat Better and Spend Less". It's a collection of ideas that anyone can do to help cut down on food expenses.
They're both free for new subscribers through March.
If you're already a subscriber, check your email, I sent you a copy today! (I always send my current subscribers the new freebie!)
So, without further ado, let's get you signed up so you can get your free e-books.
And don't forget to hit those share buttons below so your friends can get their copies too!
More Ways To Eat Better and Spend Less: