Just when I thought I knew my own food likes and dislikes, along comes this recipe for spinach-stuffed grilled tomatoes.
On a normal day, you would never catch me saying "Hmmmm, I'd really like to sink my teeth into a nice, juicy tomato, stuffed with fresh, green spinach. Ooh, a grilled tomato sounds good. If only I had a recipe".
Because I'm not a big fan of tomatoes or spinach.
I came across this basic "recipe" when I was doing a large photography project with grilled foods. I thought it would make a pretty picture, so it went on my list.
Let the grilling begin!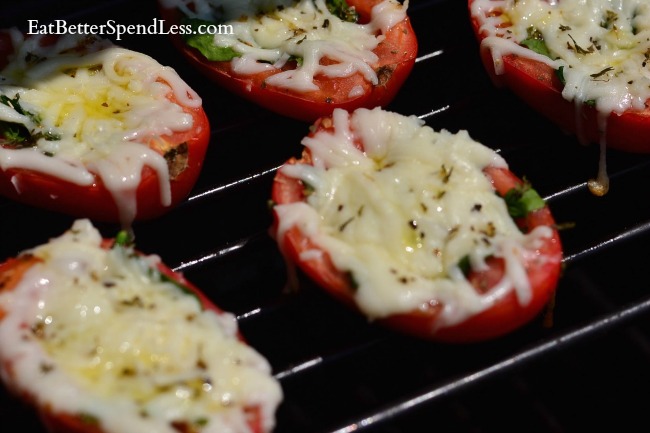 As these were cooking I realized they did look pretty tasty. I thought "Maybe my EatBetterSpendLess readers would like to have this recipe".
And then I realized, if I'm going to share this recipe with you, I'd have to taste it to make sure it's actually… you know… good.
So I sat down with my delicious barbecue burger with grilled onions, (also part of the photo shoot) prepared to take one bit of the tomato. Just to make sure I'm not passing along a gross recipe.
I can do this, I'm a big girl.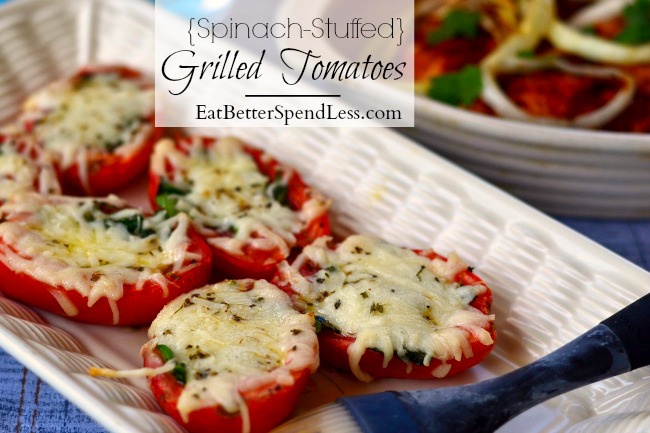 And that's when it happened.
One bite and I'm hooked!
It's delicious! (I'd swear there was bacon inside that tomato but I promise, there wasn't. Though perhaps not the worst idea in the world.)
I'm surprised at how much it didn't last like… well… tomatoes and spinach.
I've added these grilled tomatoes to our regular list of sides for when we're grilling. And believe me, we needed more options. One can only eat so much potato salad no matter how delicious it is!
I'm so excited to share this recipe with you because:
it's different,
it's healthy,
it's super easy, and, most important,
it's yummy!
Here's the recipe:

Spinach-Stuffed Grilled Tomatoes
This makes a tasty side dish for anything grilled! And it's easy!
Ingredients
4 Plum tomatoes
1 Cup (approximately) fresh spinach, stems removed, torn into small pieces.
1 TBSP dried basil
2 Cups (approximately) Shredded Mozzarella Cheese
Instructions
Light the grill or preheat an indoor grill pan.
Slice the tomatoes in half, lengthwise.
Hollow our the insides by removing seeds. Be careful not to puncture the tomatoes, they need to remain in one piece.
Lightly salt each tomato, follow with a sprinkling of dried basil.
Fill each tomato half with spinach.
Top each tomato with shredded Mozzarella cheese.
Opt. sprinkle with more basil or Italian seasoning.
Place on a hot grill and cook for 10 minutes or until cheese is melted and browned.
As promised
on this post
, here's how cook this recipe "when I feel like it":
In the morning, when I still have at least a sufficient level of "cooking mojo" I can do the following:
Cut the tomatoes, hollow out the centers, and store in a covered dish in the fridge.
Tear the spinach into small pieces, store in the fridge.
Shred the cheese if I'm shredding it myself.
Go ahead and pat out some burgers while you're at it and dinner is just about made!
When dinner time rolls around, and I'm frantically trying to finish up a school day with my kids and a blogging day, all I have to do is start the grill, assemble the tomatoes, and we're good to go.
I'd love to have you try these and then come back here and tell us in the comments what you thought. Will this recipe make in onto your regular list?
More Ways To Eat Better and Spend Less: