I know my husband loves his food when he takes a bite and his shoulders drop! That's what happened when I handed my husband one of these while it was warm from the oven.  So I'm thinking about calling these "Shoulder droppin' biscuits". I don't know, maybe no one but me would get it. Maybe I should call them "Makes You Wanna Slap Your Mamma Biscuits." But I don't even get that one. I mean why should my Mamma get slapped just because I made melt-in-your-mouth-even-though-they're-made-with-whole-wheat-biscuits? Doesn't make sense to me. Guess we'll think on the name for a while. In the mean time, maybe you'd like to make some?
If you enjoyed play dough as a kid, you'll love making these biscuits! I totally love working with bread dough and these biscuits are every bit as much fun! But you might want an apron for this one! So get your apron, gather your ingredients and let's bake up some yum! (Hopefully you've already got a beef stew bubbling away in your crock pot.)
Start with a large bowl, and combine everything except the butter and the milk.
Next, cut your butter into pieces, about half an inch or so, and add to the flour mixture. Using a pastry blender, cut the butter into the flour mixture until you get a course, crumbly mixture.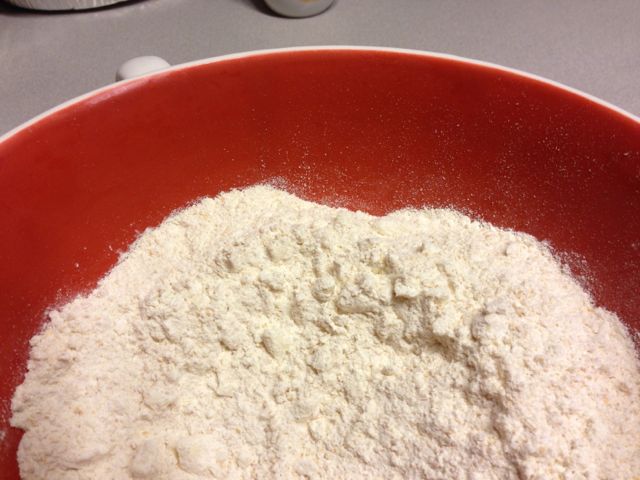 Confession time: I use my food processor. I do love to play with the dough, but cutting butter into flour is not something I enjoy. Just use the pulse function until you get the desired texture. You're not going for a fine, floury texture, you want little chunks of butter. That's what makes your biscuits light and fluffy.
So if you used your food processor, dump it back into the big bowl you started with, cover it with plastic wrap and refrigerate for at least 10 minutes. The last time I made these, I let them chill for several hours. I knew I'd be gone most of the afternoon so I wanted to get them started in the morning. So I got it to this point and stuck it in the fridge. When I got home I just had to put them together and bake enough for dinner and freeze the rest!
Remove from fridge and add the milk. (Remember, if you don't have buttermilk, you can make your own. Just put 1 TBSP vinegar into a measuring cup. Fill it the rest of the way with milk for a total of 1 1/4 cups.) Stir just enough to be able to gather it all into one big ball and dump in out onto the counter.
On a lightly floured surface, (Isn't it odd that we food writers always say that even though it's pretty likely the surface you'll use is your counter top or kitchen table?) gather the dough into a ball. It won't be smooth, you'll have lumps of butter. That's a good thing. Don't over work it.
Now, using your hands or if you're picky like me you can use a rolling pin but go easy with it! Press the dough into a rectangle, roughly  9X5 inches. Yeah, I'm pretty sure mine is a little big bigger than that. Just goes to show ya that it's really not a science. Just get a shape that's longer than it is wide and that you don't roll the dough into paper.
Lightly and evenly sprinkle the dough with flour, the fold into thirds like you would a letter. (Remember when we used to send paper letters?)
Gently roll it out again to be about the same size as what you started with.
Do this folding and rolling back out three times.
After you've done your folding and rolling 3 times, it's time to cut out your biscuits. I just use a glass because I keep forgetting to buy a biscuit cutter. Just dip the rim in  a little pile of flour then press into the dough to cut out your biscuits. Get close to the edge as possible so you can get as many biscuits cut as possible out of the first round.
This will probably never happen again, but my rectangle sort of turned into a square which was the exact size to cut out 9 biscuits (3 rows of 3) . I have no idea where the ninth one is, it's not in the picture, just incase you're tempted to count.
And you're ready to bake these beauties!
Now you might be thinking that these look a little too perfect to ever be good. I'll admit, I got a little carried away with the rolling pin and these are pretty smooth looking biscuits. But I assure you, even with the possibility of being over handled, they still came out shoulder-droppin'- good!
You'll notice I'm only baking 4 of them. That's because there are some things I only eat fresh from the oven. Chocolate cookies are one, and biscuits are another. So I cook what we'll eat with that meal and freeze the rest. My advice to you is that you cook one extra. You'll see why in the last picture.
Here's how I freeze the rest.
Line a sheet pan with waxed paper. Lay the biscuits so they don't touch.
Cover with plastic wrap.
Freeze until solid, then transfer to a freezer resealable bag.
With a Sharpie, write this on the bag:
Biscuits
Bake on 425° for 13-15 minutes
Brush with butter.
OK, let's get back to the baking. Follow the baking instructions above and brush with butter right when they come out of the oven. Yes. You definitely want to do this step.
And here is the biscuit only you need to know about. I won't tell a soul that one of them didn't make it to the table.

Fabulous Freezer Biscuits
Soft, flakey, buttery biscuits that you can freeze now and bake later. Wonderful even with whole wheat!
Ingredients
½ cup cold butter
1¼ cup whole wheat flour
1 cup white flour
1¼ cup *buttermilk
½ tsp. soda
3½ tsp powder
1 generous tsp salt
*If you don't have buttermilk, you can use 1 TBSP vinegar and milk to make 1¼ cup.
Instructions
In a large bowl, combine everything except the butter and milk.
Chop cold butter into pieces and cut into the four mixture until you have a crumbly mixture.
Refrigerate for at least 10 minutes.
Add milk and stir just to combine- don't over stir.
Dump out onto a lightly floured surface.
Knead a few times just until dough comes together.
Press into a rectangle, about 9x5.
Sprinkle lightly and evenly with flour.
Fold the rectangle into thirds like you would a letter.
Press out to the same size rectangle you started with.
Repeat 2 more times for a total of3 folds.
Press to ¾ inch thick, cut into biscuits.
Set in a shallow baking dish, close enough to just touch.
Bake for 13-15 minutes on 425°
After removing from oven, brush tops with melted butter.
More Ways To Eat Better and Spend Less: