Tired of the same old sandwich?
I've got a treat for you today. But you have to trust me.
Like when they told you about pretzels and chocolate. You were skeptical weren't you? But they're so irresistible! Aren't you glad you tried them? (Now I'm grumpy 'cause I want some and it's 9:30 at night and we don't have any.)
But we're talking about sandwiches. Ready to trust me?
Great! Rush to the store now and buy the stuff to make this sandwich!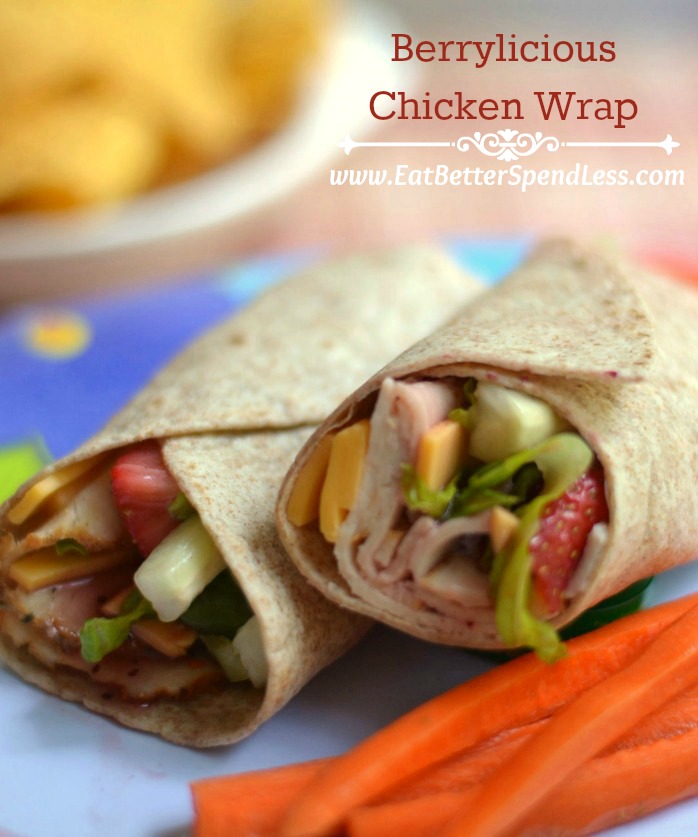 I know. Who eats chicken and strawberries on a sandwich?
I do. It's delicious! And you'll love it too.

It's easy to make, just  put everything on a tortilla and roll it up. I had things kind of spread out in this pic so you could see what's in it, but it needs to be squished together a bit so you can roll it.
If you're planning on packing it to take with you, you may want to skip the dressing and just bring a little bit with you to dip it in. (Nobody likes a soggy sandwich, even if it does have fresh strawberries in it!
I was so happy when I ate this sandwich yesterday. I know. It's a little weird to get happy over your lunch. But ya know? Sometimes lunch is boring. It's nice to have a delicious lunch once in a while!
Speaking of that, in honor of yummy lunches, I'm going to be posting more lunch ideas all this week so be sure to come back often. Better yet, sign up for my mailing list so you never miss a recipe! (In the box in the top right corner.)
I'd love to hear from you in the comments if you try this sandwich!
Berry-licous Chicken Wrap
Ingredients
Tortilla
Deli chicken
¼ cucumber, cut into strips
2 slices American cheese
2-3 fresh strawberries
Lettuce
Raspberry vinaigrette
Instructions
Lay tortilla on a plate or cutting board.
Lay each ingredient in strips across the middle of the tortilla
Drizzle with raspberry vinaigrette
Roll the tortilla tightly and enjoy!
More Ways To Eat Better and Spend Less: