If you've been following along with my 15 Minute Meals series, you are aware that I'm in a very busy season of life. We put our house on the market and got two offers on the first day! Woo hoo! Now we have to do all that paper work, get inspections and appraisals, and pack, pack, pack.
So it's 15 minute meals for us.
Super Nachos is one of our favorite meals. I love how quickly I can get this meal on the table and that it makes for a yummy lunch the next day (so make extra).
To make this meal even more healthy and frugal, the black beans are my little secret weapon. They're cheap, and make a great filler to "stretch" the ground beef. And they're healthy, and they don't really change the flavor so it's a win!
Back before I knew better, we thought we had to have "cheese sauce" for our nachos. Now I know that cheese and cheese sauce are mutually exclusive, depending on what kind cheese sauce you buy (I guess). So we just switched to shredded Cheddar cheese. I actually  like them better this way.
And don't be afraid of the jalapeño, even if you don't like spicy foods. We don't like spicy either. The heat in a jalapeño is in the seeds. Get the seeds out and your nachos won't be too spicy. Also, be very careful not to touch your eyes, nose or mouth until after you wash your hands when handling the jalapeno. It will burn!
So here it is, your recipe for a smooth and delicious evening; 15 minute Super nachos.
Ingredients
Meat topping
1 Lb ground beef
2 cloves garlic chopped or grated
1 small onion, chopped small
1 jalapeno (opt) seeded and minced
1 tsp salt
2 tsp chili powder
1tsp ground cumin
2 tsp cayenne pepper sauce
1 TBSP soy sauce
1 can black beans, drained
Toppings
nacho chips
Shredded Cheddar Cheese
Sour cream
Chopped scallions
Sliced avocado
Instructions
Brown ground beef in a large skillet
Chop garlic, onion, and pepper.
Use a blender or food processor if you like them very small or need to hide them from picky eaters.
Add all ingredients except the beans to the meat.
You may need to add a little bit of water to keep the meat mixture moist.
Simmer until the onions are tender.
Stir in the beans
Serve over nachos. Top with your favorite toppings.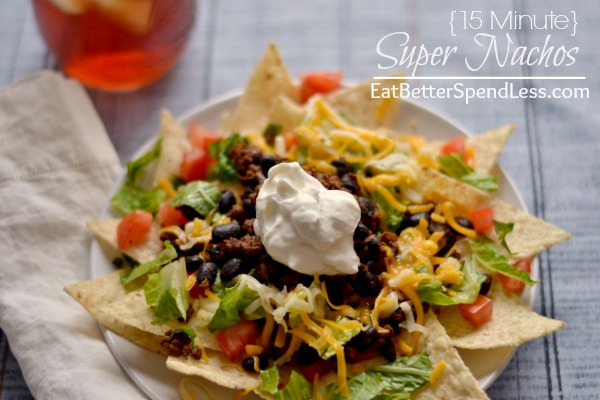 More Ways To Eat Better and Spend Less: