I thought my enchiladas were delicious. And then I made this Pico de Gallo to go with them.

Who needs to go out to eat when you can so easily eat like this?
Pico de Gallo is so easy. I Just put everything in my food processor, starting with the items I wanted to be really minced small. End with the tomatoes so you can get them just the size/texture you want them.
Put it all in a bowl, add some lime juice and salt and refrigerate for at least an hour (so everyone can get to know each other) and serve with anything you'd serve salsa with.
And now you're a rock star!
Or, a rock stah, as we would say in Maine.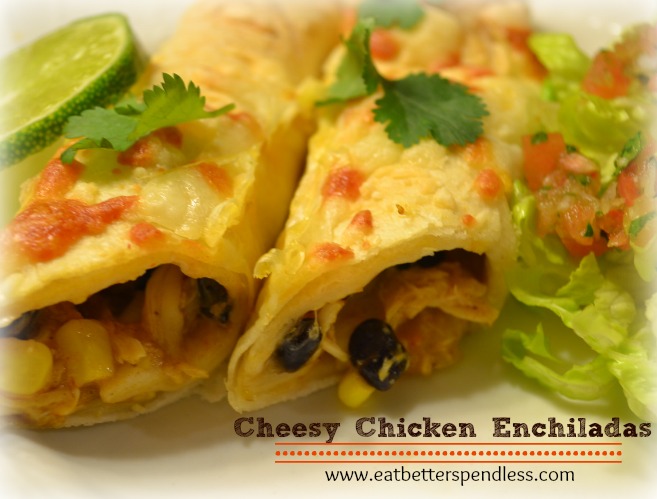 This dinner really tastes like something you'd get at a restaurant and yet, my hands-on time for getting this meal on the table was about 5 minutes. That's on serving day. I make the enchiladas ahead during my freezer cooking sessions. I can make 4 meals' worth in about 10 minutes once I have the chicken cooked and pulled off the bone.
But we're talking about the pico here.
What is there to say? It's easy, it's cheap, it's healthy, and it's delicious!

Pico de Gallo
Makes any Mexican dish taste awesome! Super easy, quick, and healthy!
Ingredients
5 tomatoes, seeded and chopped
¼ white or red onion, minced
1 jalapeño, seeds removed and minced
handful cilantro (about ⅓ cup before chopping)
1 small clove garlic, minced
juice from half a lime (about 1 TBSP
2 pinches salt
Instructions
Take the seeds out of the tomatoes and chop them into small pieces.
Finely mince everything else.
Combine in a bowl and add the salt and lime juice.
Refrigerate for at least an hour before serving.
If you want that less-juicy type of Pico de Gallo, it works best to mince and chop your veggie by hand. If you don't mind it being a little more combined, and you don't have the time or patience to finely mince things then by all means use your food processor.
Start with the items you want to be minced the smallest. For us, that's the jalapeño for sure. I put that in with the garlic and get them as small as I can. I then add the other ingredients except the tomatoes and pulse until chopped small. I add the tomatoes last so I can really control the extent to which they get chopped--making sure not to turn this into salsa.
Transfer the chopped veggies to a bowl and add the lime and salt.
Stir and refrigerate for at least an hour.
This post is participating in the following linkups:
bunsinmyoven.com   ladybehindthecurtain.com   servingjoyfully.com   mizhelenscountrycottage   yourlife7.blogspot.com
More Ways To Eat Better and Spend Less: