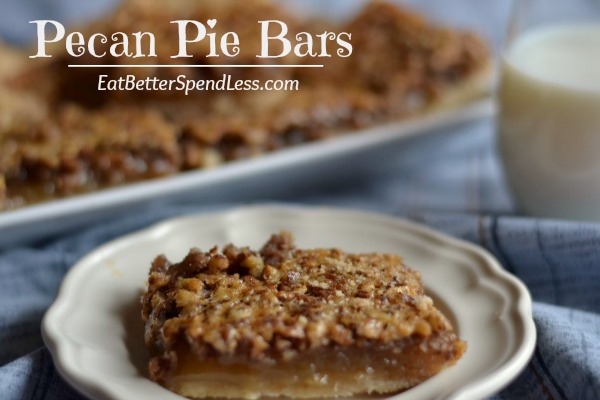 If you love shortbread cookies, and even if you don't love pecan pie, you need to try these Pecan Pie Bars. They always come out right, and they always disappear quickly.
I'm posting these today as a virtual birthday gift for my sister Melissa. It's her birthday tomorrow and we are many states apart, so this is the best I can do.
When we both lived in Maine,  our local grocery store sold the cutest little mini pecan pies, complete with a shortbread crust, much like the bars in this recipe.  We'd usually have them around while we were preparing Christmas dinner at our parents' house. It was kind of our own little "guilty pleasure".
And then my mother-in-law made these amazing Pecan Pie Bars, and I never bought another mini pie again. My sister loves them too and makes them for her family around Christmas time.
So, in honor of my sister, let's make some Pecan Pie Bars!
First you'll prepare the crust and while that's baking, mix up the filling. It's very quick and easy.
I like to chop my pecans pretty small, it makes the bars cut easier and we just like the texture of smaller pieces.
I like mine to be chewy, so I keep them in the fridge. If I can get them to the fridge before they're all eaten.
These are great for those holiday parties you'll either be throwing or attending. They travel well, and you don't need a plate! But eat one before you go, because you'll be coming home with an empty dish!
What is a favorite dessert in your family?

Pecan Pie Bars
Ingredients
Crust
3 cups flour
½ cup sugar
1 cup butter, room temperature
½ tsp salt
Filling
4 eggs, slightly beaten
1½ cups light corn syrup
1½ cups sugar
3 TBSP butter, melted
1½ tsp vanilla
2½ cups chopped pecans
Instructions
Mix crust mixture in a stand mixer. It will be course and crumbly.
Press into a well greased (sides too) 15 X 1 X 1" pan.
Bake on 350°for 20 minutes. It will be just barely lightly browned.
While the crust bakes, mix the filling.
Spread evenly over hot crust.
Bake at 350° for 25 minutes until golden brown and set in the middle.
Cool completely before cutting.
Store in the refrigerator for a chewier texture.
For more delicious dessert recipes, follow my Desserts board.
Follow Beth Cranford/Eat Better Spend Less's board Desserts on Pinterest.
More Ways To Eat Better and Spend Less: