**Welcome to my monthly meal plan! While the plan will remain the same for the entire month, I will continue to update this post as I add recipes to the site. So check back each week. I'll list them at the end of the post. Thanks so much, and I hope you're enjoying the meal plan! 
Happy February everyone!
It's finally not freezing and I'm thrilled. I'm going to find something outside this house to do as soon as I get this post up. I know you're all just sitting at your computers waiting to find out what my family is eating this week!
I'm excited to announce that I'm finally going back to a meal planning system that I used  long ago and really loved. (Don't ask me why I stopped doing it this way, I have no idea!)
It's once-a- month planning and shopping. Oh yeah. No more being mad at myself because I have a meal plan but no food because I habitually skip the grocery store. I don't know what it is about the grocery store but it just always seems there is something (way) better to do than grocery shop.
And, believe it or not, it saves money!
I'll post more about this on Monday. For now I just wanted to get this out in case you need some ideas for your menu. If you're not quite ready to jump into monthly planning, just use what you can. Maybe just follow week by week.
Here is my menu for this month. Feel free to download it and use it for your planning. I've linked the recipes that I've posted so far. I'll add more recipes to the blog as I go along so be sure and check back for those.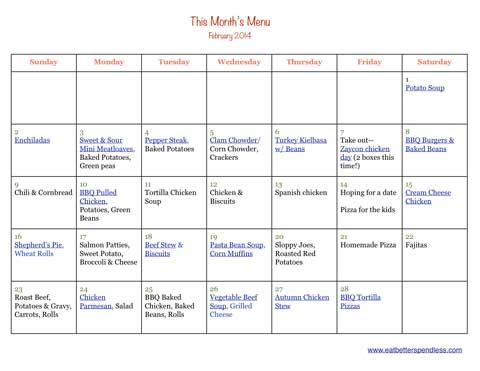 Click to view PDF
Oh, we have to think about breakfast, lunch and snacks! I hope to have a running list of ideas for each ready for you by next week. When you're doing your monthly dinner plan you can actually go ahead and plan for breakfast, lunch, and snacks as well. Just choose the delicate produce items for early in the month.
OK, here we go, here's what we'll have this week:
Breakfast choices:
Whole Grain Waffles w/ strawberries
Peanut Butter Toast with Bananas
Oatmeal with blueberries
Smoothies
Lunch Choices:
Leftovers
Chili & Potatoes
Spaghetti
Snacks:
Popcorn
Yogurt
Carrots & Dip
Apples
Graham Crackers with Peanut Butter
Pizza Nachos
Dessert of the week:
Since it's almost Valentine's week I thought I'd make one of the six thousand beautiful desserts I'm seeing on Pinterest. Something unusual, something that takes lots of time and show my family how much I love them. And then I realized the best way to show them that is to make something they'll love. And the boring truth is, when it all comes down to it, my family seems to prefer a good old fashioned chocolate chip cookie. So, in honor of them, and to add some Valentine's flair, I'm making these. http://whiskawayyourworries.wordpress.com/2013/02/15/love-is-in-the-air/
**Update: made the cookies, they were great! Here's my post with a few small changes.
This week I think we'll try these Cream Cheese Brownies with Heart Shaped Strawberries!
Have you ever tried monthly meal planning and shopping? I'd love to hear about your experience and what you love/hate about it.
**Here are the recipes from this plan that I've added to the site since posting the plan (Links will not appear on the downloadable meal plan.)
Nach-Yo mamma's Chicken Soup (Tortilla Chicken Soup)
Sweetheart Triple Chocolate Chip Cookies
Linking up with:
More Ways To Eat Better and Spend Less: