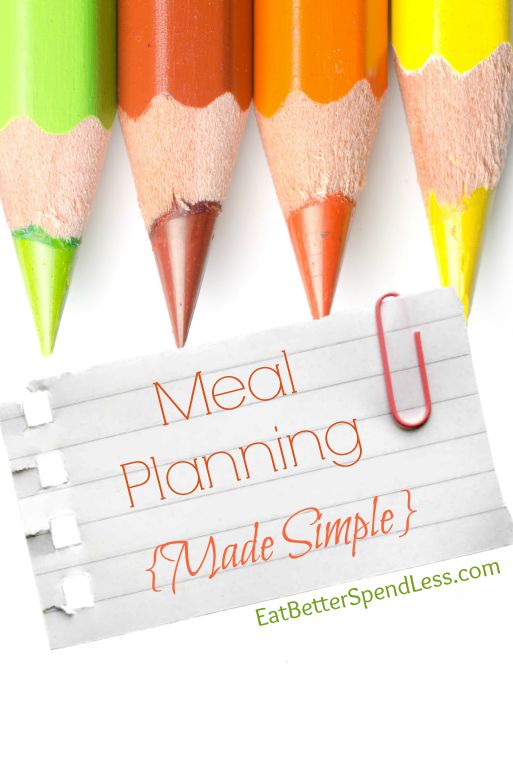 Warning: If you're tired of reading about meal planning, you might want to move on and read a different post. Maybe you just need a recipe for Mini Molten Lava Sundaes. 
If you've become aware that meal planning is a homemaking skill that yields multiple rewards, and you need a little help, either with the know-how or the motivation, then stick around. Today I'm sharing the easiest approach to meal planning that I know.
Meal planning is different for everyone. Some people plan based on what's on sale that week (I'm not one of those people.) Some make 4 plans, each with 30 meals, and rotate those through each season of the year (I am that person–sometimes.) Then there are many variations in between. It's even OK to alternate between a few different approaches depending on what's going on in your life. The cool thing about meal planning is that you can be as basic or as sophisticated as you want, and still see results.
I'm so convinced that you need a meal plan, I want to make sure you do it by giving you the simplest approach I know, besides buying a done-for you Plan.
Please note: I'm not against the done-for you plans. To prove it, here are a few you can check out:
For Real Food meal plans on a tight budget, you really need to check out Frugal Real Food Meal Plans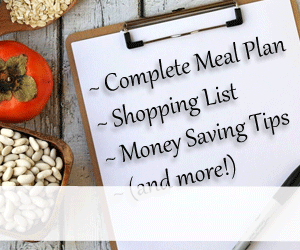 If you're not quite ready to jump into the "Real Food" club, check out emeals. (I promise, I didn't know their banner said "Meal Planning Made Simple" until after I titled this post.)
Whatever type of meals you're looking for, you'll find a menu for it at emeals. I think there may even be a free trial.
If done-for- you isn't quite what your'e looking for, here is an easy and effective way to make a meal plan that works. For the most part you'll only have to sit down and "meal Plan" once. Very cool.
In a nutshell, you're going to make a list of meals for two weeks, each with a corresponding grocery list. Then you'll reuse the same plan, same list, every two weeks.
Here's the step-by-step:
1.Poll the family, asking them what their favorite meals are (or, let's face it, what are the meals they will eat with little fussing).
2.Make a list of 14 different meals. If there is a day of the week that you regularly don't eat at home (maybe you eat at church, at your mother-in-law's, at the ball field, etc.) then don't plan a meal for that day.
3.Using those 14 meals, make two lists. These will be your meal plans for two weeks.
Make sure to have an even mix of meal types in each week. For example; don't make all of your chicken dishes on week one and then all of your beef dishes on week two.
Sprinkle some slow cooker meals into each week to help you with those busy days.
4. Gather the recipes for each meal and make two grocery lists; one for each of the two weekly meal plans you just created.
You're done.
Go shopping for week one.
Next week go shopping for week two.
Then shop for week one again, and so forth.
It's basic, but it gets the job done. It's a great way to start and build the habit of having and sticking to a plan.
Before you move on to a more complicated plan–should you ever want to– be sure you stick with the basics until you've established a strong habit of making and using your meal plan. Here are a few more tips:
Decide what day is best for you to shop and get your plans ready the day before.
Check your meal plan each evening to see if anything needs to be thawed overnight for the next day.
Check your meal plan each morning to see what you could prepare in the morning while you still have energy. This is also a good time to make sure you have everything you need.
That's pretty much it. As long as you remain aware of your plan and take steps to get it done, you'll be amazed at the level of peace you usher into your home and heart, and the money you won't be ushering out of your checkbook for fast food!
Great News!
Meal planning doesn't have to be complicated, but there are tips that will help you get the most from your meal planning efforts. I'm in the final stages of creating a Meal Planning e-Course, just for you. Why? Because I want you to do this thing called meal planning–and like it!
We'll cover lots of topics including but not limited to:
What if I don't have time
Some tips about picky eaters
What about new recipes?
Keeping it interesting
Streamlining your meal planning
The shopping
After the store
Is there something you'd like to see in this e-Course? A question you'd like answered, need help with a particular aspect of meal planning? Let me know and I'll try to work it into the course!
If you think you might be interested in this course, just sign up below and I'll be sure to send you the details when it's ready.
*This will not obligate you in any way. It's just so I can send you the info when it's ready.
**This will not put you on my regular mailing list. If you're there already, great, but if you want info about the e-Course, sign up here.
If you want to also be on my regular list, sign up here. 
I can't wait to get this course out to you and help you create a plan that works for you!
photo credit @Daniele Depascale/dollarphotoclub.com
More Ways To Eat Better and Spend Less: