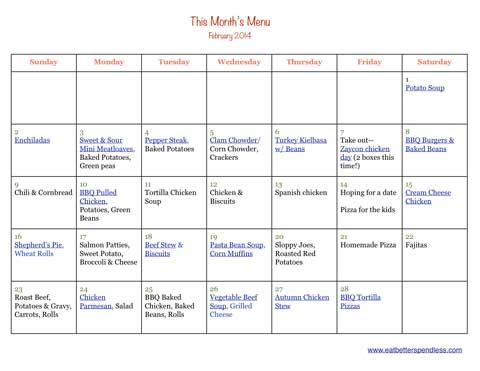 Are you intrigued by the idea of a monthly meal plan? Maybe you're just curious to learn more about the crazy lady who is proposing such an idea. I'm okay with that.
If you've poked around this site at all, perhaps you've begun to notice that two of my most significant strategies to eating better while saving money are meal planning and freezer cooking.
You may have also seen that for a while I got away from doing either, and the results were not so good. Now that I'm renewing my efforts to do a better job with providing better meals and spending less money, I've decided to go back to a  strategy I used in years past.  Instead of planning our meals for the week, I'll be planning them for the month. I know that sounds a little over the top, and like it will actually take more time, not less. Bear with me while I explain.
Any time you can consolidate repetitive tasks you save yourself time. When you have a job that needs to be done several times a week, ask yourself if it can all be done all at once. If so, it probably won't take you much longer to do it for the week than it does for one day.
Carry this idea to your menu planning. I find that my biggest obstacle is getting myself to sit down and focus on the meal plan. Once I'm "In the zone" it really isn't difficult to just stay a few more minutes and get the whole month taken care of. Then I don't have to think about it again for a month. If it takes you 20 minutes to sit down and make a list of meals for the week, how much longer would it take to make a list for the month? I can say from experience, not much longer. And now you will get three weeks off! The truth is, you won't even have to spend that 20 minutes every month. Once you make a monthly meal plan you can just keep reusing it. If you avoid too many repeats within the month, you can serve the exact same menu next month and you'll only have each meal once in a 30 day time frame. You could have two monthly lists and alternate them if you have a lot of meals from which to choose. I personally use seasonal meal plans. You download a copy of  my winter meal plan here. (It's also pictured above.)
If you only plan once a month, that means you're only shopping once a month. It doesn't take me very much more time to walk each aisle in a grocery store and pick up what we need for a month than it does to walk those same aisles and pick up what we need for a week. By going only once, I may add a tiny bit of time to my trip but I've cut three other trips out of my schedule. That's also three less times I'm carrying groceries into the house and putting them all away.
Didn't I say something about this saving money as well? Yes, I did. You see, every time I go into the grocery store, I buy more than what is on my list. I don't buy a lot of impulse things, but I still buy things that we could have lived without. It never feels extreme to buy maybe a package of crackers and some cookies, for example. But it feels quite extreme to buy enough of that stuff to last a month. So I just don't buy as much, and life continues well without it.  By going into the store only once a month, I cut way down on the extras that we didn't need to buy.
It also saves money because, just like with  having a weekly plan, I am much less likely to get caught with nothing to make for supper. When I shop for the week, I often miss my scheduled shopping day, leaving me with not much to choose from for supper. If I have shopped for a month, there is always something, even if its not exactly what was on the menu for that day.
Are you coupon shopping? How can you plan your meals for the month and still buy what's on sale?
Come back next week and we'll talk about that. But I'll give you a hint; there is a way of combining the best of both worlds.
This article was adapted from the book It's Me or the Coupons. For more information, click here.
Linking up with:
servingjoyfully   growinginhisglory.com
More Ways To Eat Better and Spend Less: