Mmmmm. Who doesn't love chicken  pie!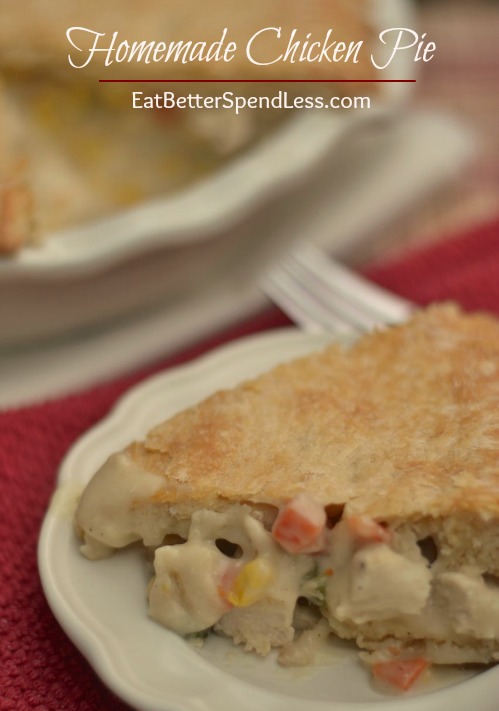 I've been eating this exact  pie since I was a kid and loving every bite.
If I could get away with it, I might just eat the crust off the whole pie and then serve what's left to the family. But that would be bad.
Very bad. I need vegetables, and this is a pretty tasty way to get them.
Maybe you shy away from making Chicken Pie because it's a bit of a process. Have no fear, you can do some of the work ahead and have it in your freezer. I usually keep a batch of dough and the cooked chicken in the freezer. With those two parts done, you're well on your way to a delicious weeknight dinner, without it tasting like it's been frozen. (I don't care for freezing the whole pie, besides, it takes up too much room in the fridge.)
I like to serve it with either homemade Bread & Butter pickles or applesauce.

Chicken Pot Pie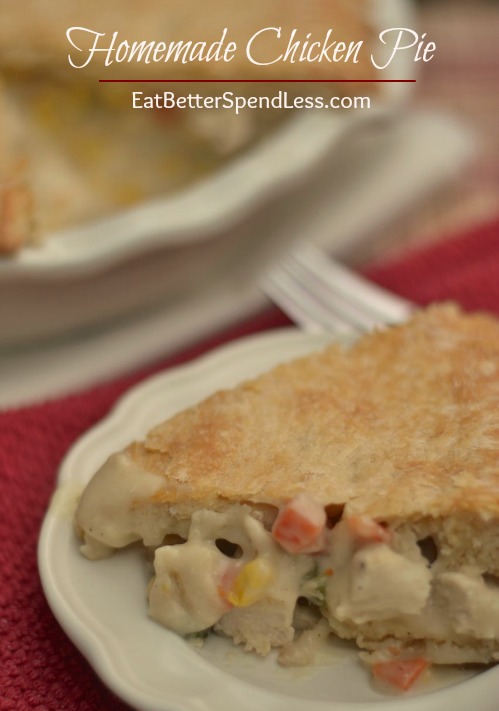 Ingredients
3 cups flour
½ cup butter-cold
¾ tsp salt
4 tsp baking powder
1½ cups canned milk
1½ cups cooked mixed vegetables
2 C hot water and 2 chicken bouillon cubes
½ C canned milk
¼ tsp salt
¼ tsp pepper
4 TBSP butter
5 TBSP flour
2 C cooked, diced chicken
Instructions
It is best to make the crust dough before starting the filling. You can even make it a day ahead.
If your chicken isn't cooked, go ahead and get that started too.
Put dry ingredients into a medium bowl.
Cut butter into small pieces and add to bowl.
Mix butter into flour with a pastry cutter or fork (or use a food processor).
Add milk and mix just until you can form a ball; don't over mix, lumps are OK.
Divide dough evenly and form into two disks.
Cover with plastic wrap and chill until ready to use.
In a saucepan, heat 4 Tbsp butter and 5 TBSP flour until blended. Add all other ingredients except the chicken and veggies and cook until the sauce thickens
Add chicken and veggies, stir.
Dust a clean surface with flour.
Roll out ½ of the dough into a circle, a little larger than your pie plate.
Transfer dough to plate, allowing edges to hang over.
Add filing.
Repeat with other ½ of crust, lay on top of filling.
Cut off extra crust from both top and bottom.
Press all around the edges with a fork to seal.
Using your fork, poke a few holes in the top crust.
Bake on 375 for about 20 minutes.
More Ways To Eat Better and Spend Less: