The sky is growing dark and there is thunder in the distance as I write this post.
There are some sounds that will always warm my heart, like my children laughing or singing and my husband saying "I love you" or, similar, "Let's go out to eat."
And a gentle thunder. Especially at the end of a long, hot summer.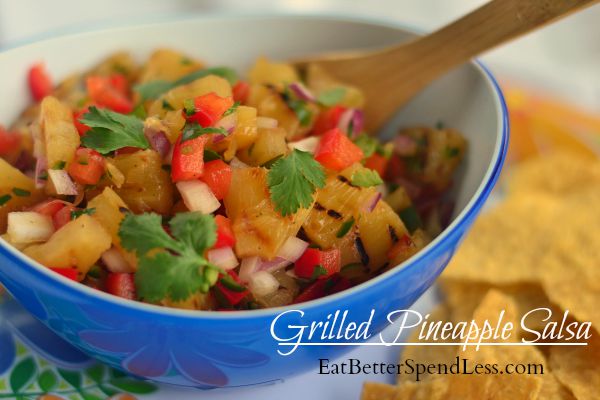 We've had a long, hot summer indeed, and I'm ready for it to be over. But I know we've got at least another month, so I'll enjoy this little respite while I can.
There's just something about the dark sky and the rain that makes me feel like life is slowing down, just a bit, for just a while. It makes me want to stop everything I'm doing and just listen. Sometimes I do, with a good book or course.
When the clouds roll away and the heat returns, there's no point in fighting against it, you might as well embrace it. And that's where this grilled pineapple salsa comes in.
It's not only beautiful (Isn't is beautiful? Don't you love beautiful food?) but it's very good for you and easy to make. I can almost forget about the heat (are you getting the idea that I'm not a big fan of the heat?) when I'm eating this salsa. So fresh, so fun.
You could be the rock star at your next pot luck with this grilled pineapple salsa, and no one would have to know how easy it was to make!
I'll be back next week with a recipe for shrimp tacos, which will be full of this amazing salsa! They're beautiful too.
Update: Here's that recipe for Shrimp Tacos.
Grilled Pineapple Salsa
Ingredients
• ½ pineapple, Peeled, cored and sliced ¼ inch thick (Canned sliced pineapple works
too)
• ¼ red onion, peeled & diced
• 1 jalapeño chili pepper, seeds removed, finely diced
• juice from 1 lime
• ½ red pepper, seeded and chopped
• ¼ cup fresh cilantro, chopped
• salt to taste
Instructions
Place pineapple slices on a hot grill and grill each side until you get grill marks. (I used
an indoor grill lightly sprayed with cooking spray).
While the pineapple is grilling, work on the rest of the salsa. Drop each ingredient into a
large bowl as you get them chopped, etc.
• Peel and chop red onion
• Seed and dice the jalapeño pepper
• Seed and chop the red pepper
• Chop the cilantro
• Juice 1 lime
When pineapple is grilled, remove from grill and chop into small pieces. Add to salsa.
Stir to combine.
You can serve right away or chill to allow flavors to blend and to serve it cold.
Make sure you're
on my mailing list
so you don't miss the shrimp tacos!
What dish helps you get your mind off the summer heat?
More Ways To Eat Better and Spend Less: