Everyone needs some Chicken and Rice once in a while.
It's not only easy and quick, but it's also comfort-in-a-dish AND, it's kid-friendly.
But I got a little bored with the standard chicken and rice a few months ago. So I added some green pepper and onion. I was surprised how much it changed the flavor without losing that classic chicken & rice taste and feel. Still comfort in a dish, but with a twist.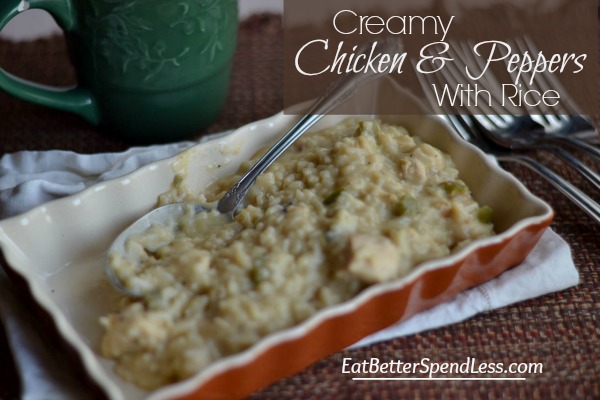 Before we move on to the recipe, I feel like I have to address the "elephant in the room".
The Cream of Chicken soup. 
I know. Everyone knows. It's not the healthiest ingredient on the planet.
Here's the thing:
Here at Eat Better Spend Less, we're not going for perfect. We're going for better. So, if this dish is healthier, tastier, and more affordable than your local drive-thru, then it's a win. My mission is to help families eat at home more often, and in so doing, to spend more time together, save money,and yes, eat much healthier than if they were eating out.
So, for now, I'm going to use some "cream of" soup once in a while. And I give you permission to do the same. Just don't mention it to the food police. 🙂
And, if you add a salad, all food sins will be forgiven. Or if you eat this dish at church.

Creamy Chicken & Peppers With Rice
Ingredients
1 LB boneless chicken, cut into chunks
½ green pepper
1 small onion
1 can Cream of Chicken soup
1 cup Basmati rice
Instructions
Bring 2 cups water and 1 tsp salt to a boil.
Cut chicken into 1-2 inch chunks.
Dice green pepper and onion.
In a large skillet, lightly coated with olive oil, brown the chicken.
Add 1 cup rice to boiling water, stir once and cover.
turn heat off and allow to cook for 20 minutes.
Add the veggies and allow to cook until tender.
Cook until the chicken is cooked through, about 10 minutes.
Cut the chicken into bite sized pieces and return to the pan.
Add soup and cooked rice, stir to combine.
Serve with a salad or veggie of your choice.
Linking up with:
More Ways To Eat Better and Spend Less: