Yesterday was a special day for me. It was my birthday, which meant that my house got cleaned by my kids (woo hoo!) I got taken out to lunch by my husband, AND had dinner with a good friend. And, most importantly, I came face-to-face with the fact that in three years I'll be fifty years old.
Wow. Way to deflate a perfectly good birthday!
I'm sure you're wondering why I would say that was the most important part of my birthday. Sounds like the worst part. Who enjoys realizing they're getting older? It may not be a wonderful thought, but it is important because it got me motivated to do better with my health.
Here's the thing. I'm not a young mother. I'm 47 and my youngest child is only 7. That means that by the time he is married and has children, I won't be one of those grandmothers who is still having children of her own, or at least is young enough to still be vibrant and strong. 
Or does it?
OK, no, I will not be still having children of my own, but what about the part about not being vibrant and strong?
Who says I can't be that grandmother who has the kids sleep over and takes them on cool outings?
Our kids haven't had the privilege of spending a lot of time with either set of grandparents because we live so far away. I don't want that for my kids' kids. I want to know my grandkids, and to be there to support my kids' marriages by helping them have date nights and weekends away!
That's where this Cran-apple Salad, and others like it come in. I have a choice about how involved I'll be when I have grandchildren.
The choice has to be made today and I'm choosing to be healthy. 
I have to be honest and say it's not always an easy choice for me. Many times it's easier to grab something not-so-healthy for lunch and to skip working out because I'm "too busy." But I know that with a little bit of planning ahead (you know I'm all about that meal plan) I can just as easily have delicious and healthy meals, even for lunch! And, that 15-30 minutes I'll invest into working out will more than pay for itself in more energy for today and a healthier me for the future.
I made this salad a few weeks ago for a photo shoot of fall recipes. Fall doesn't usually conjure up images of salad for me, but the apples and cranberries definitely give me that "welcome to fall" feeling. I was actually shocked at how delicious it is. I made it again the next week and will probably make it again this week. And it's so simple to put together that there is no excuse to have something junky for lunch to save time.
Here's what's in it. (I couldn't really call it a recipe, could I?)
Spinach
Romaine lettuce
Apples
Dried Cranberries
Walnuts
Wishbone Raspberry Walnut Vinaigrette (This is not a sponsored post. Wishbone has no knowledge of my existence. I just wanted to be very specific.)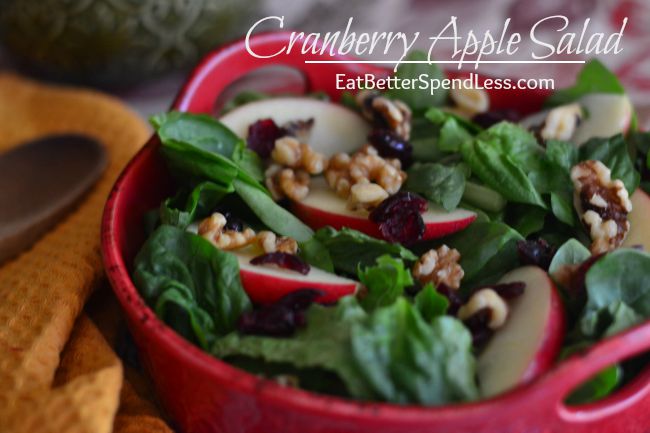 Serve it alongside a grilled chicken breast and you're on your way to being an awesome Grandma too!
More Ways To Eat Better and Spend Less: