**Editor's note: If you saw a similar post on this site  last week, I've changed the details. This book is now free for subscribers to this blog. Last week I had it free for subscribers to my other blog.
~~~~~~~
How many times have you gone to clean out your fridge to make room for new groceries and cringed at how much food you were having to throw away? Half a tomato here, a cup of cooked chicken there, those last few strawberries that got pushed to the back and forgotten. It's so frustrating and makes you feel defeated.
Are you buying food for your trash can?
Of course you would never purposely buy food, bring it home, and put it directly into your trash can. But without a solid meal plan and some strategies for using everything you buy, you could be buying more food for your trash can than you think you are.
Frustrated with the amount of food I was throwing away, I decided something had to be done. I needed to pay closer attention to what we had available and find ways to use the small portions of fruits and veggies that were left after making a recipe.

This resource is what I came up with in my quest to stop wasting food!  And I'm happy to share it with you. There are several ideas for finding creative ways to use what you have, share what you have, or preserve what you have. It's not a resource you read once and put down, but rather, something to keep handy to reference whenever you need some new ideas.
It's free for my current subscribers (check your email, it should arrive today) and anyone who joins my mailing list this month.
If you're new here, I'd love to have you poke around for a bit and see what we have to offer. The "Start Here" page will give you a brief introduction to why I started this blog and what you can expect to find here. I've got some helpful resources in the works, I'm excited about getting them finished. We're in the process of moving, so I haven't posted much lately, but I'll soon be back, cookin' up a storm and sharing great resources with you.
It's easy to sign up for my mailing list, and you can rest assured, knowing that I well never share your email with anyone and I will not flood your inbox with junk. Just updates from this blog and free resources on an almost-monthly basis.
You'll also get "16 Strategies to Eat Better and Spend Less", which is always free to new subscribers!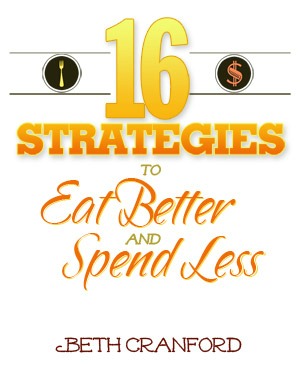 Just enter your name and email below and you'll be directed to a page where you'll find the link to your free e-books.
Welcome to EatBetterSpendLess!
More Ways To Eat Better and Spend Less: